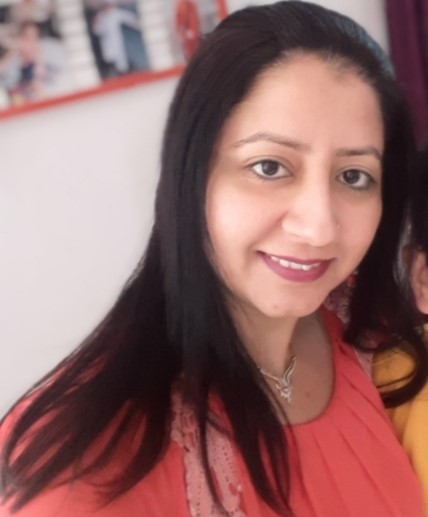 I am a Clinical Psychologist, certified by the Rehabilitation Council of India (RCI). I offer psychological services such as counselling, psychotherapy and assessment with an objective to develop the capability of the clients to improve the quality of their present and future life. I have worked in the field of psychology for over 19 years. I am proficient in working with children, adolescents, adults and families with a variety of concerns that include depression, anxiety, emotional regulation, self-esteem/ confidence issues, anger, work stress, relationship stress, and problems with communication just to name a few.
I received my Bachelor and Master of Arts degree in Psychology from Delhi University. I completed my clinical internship at VIMHANS, New Delhi. After completing my training, I worked in varied settings like Sir Ganga Ram Hospital, Child and Adolescent Clinic-Saksham, Vatsalya Special School and Early Intervention Centre for Children with Autism, Banarsidas Chandiwala Centre for Psychological Research, New Green Fields School, Amity International School and Max Super Specialty Hospital which enhanced my skills to deal with developmental, learning, emotional, behavioral and interpersonal challenges of children and adults. In addition to working as a clinician, I have also taught undergraduate-level psychology course. I have presented and published journal articles. I have a keen interest and actively been part of antenatal program to help couples during their transition to parenthood. To gain more knowledge I also obtained Bachelor degree in Education and Diploma in Naturopathy and Diploma in Yoga.
In 2011, I earned my M.Phil. (Clinical Psychology) degree from Amity University. Throughout M.Phil program I received training from Lok Nayak Hospital and Max Super Specialty Hospital, New Delhi.
My most recent clinical experience involves working as Consultant Clinical Psychologist with Max Hospital, Saket, New Delhi and Asian Institute of Medical Sciences, Faridabad. My newest endeavor involves conducting workshops/ training and supervising Bachelor and Master students in psychology for their internship.
My Therapeutic Style to psychotherapy involves customizing a treatment program based on current concerns and goals. I use a bio-psycho-social system framework to create a program unique to the challenges a person is dealing with.
My goal is to form safe, non-judgmental and collaborative relationships with my clients so that they can improve their emotional and psychological well-being and help themselves live productive lives.
My Areas of Specialization
The foundation of my psychological training is in Cognitive Behavior Therapy (CBT). I do use various therapeutic techniques from humanistic and existential therapy, particularly for those individuals that I feel will benefit from them. In addition to psychotherapy, I offer comprehensive cognitive, neuropsychological and personality assessments focused on identifying key issues of concern for the person.
Below is a list of concerns, problems or issues that I specialize in:
Early childhood emotional, behavioral and social struggles
Parenting issues, Children-Parent conflicts
Body image issues and Self-confidence issues
Student counseling
Relationship conflicts (family, work, friends, partners)
Emotional struggles (sadness, grief, stress, anxiety, fear, anxiety, etc)
Adult with various social and mental problems
Grief and loss (death, divorce/ separation, life transitions)
Stress and burnout in the workplace or at home
Available at Location & Hours (with prior appointments):
Chitrakut Medicare Multi Speciality Clinic, A 1505, Mall Road, Opposite Police Post, Greenfields Colony, Sector 43, Faridabad
Monday to Saturday: 10 AM – 7 PM
Sunday: 10 AM – 1 PM
_______________
Max Super Speciality Hospital, Saket, New Delhi
Monday to Saturday: 9 AM – 11 AM
_______________
Asian Institute of Medical Sciences, Faridabad:
Monday to Saturday: 4 – 6 PM